In 1994, Mahanand Naik was a 25-year-old bearded man who drove an autorickshaw in Shiroda, about 40km south of Goa's capital Panaji. Darshana Naik, 21, lived in the house opposite his. "She stayed alone at home when we worked in the paddy fields," her 75-year-old mother Laxmi Naik recalls. On September 30 that year, Darshana was found hanging from a cashew tree at Bambolim, not far from Goa Medical College and Hospital in Panaji. She had been strung up with her own dupatta, but since Darshana's family was poor, the investigation ended before it had begun. Luck had once again favoured Mahanand.
Killing spree begins
Just two months earlier, Mahanand had killed Gulabi Gaonkar, 30, the first of his 16 victims, at Khande -par, 28km south-east of Panaji. Gulabi was a tailor in the Ponda market, near the autorickshaw stand where Mahanand worked. When her decomposed body was found a day after the murder, a witness told police that a bearded man had been meeting her regularly. Mahanand was picked up and placed under preventive custody. But when the other drivers said he had been at the stand on the day of her disappearance, he was released. Nobody had noticed him slip away and return in the sleepy hours of the afternoon.
Gulabi's murder gave Mahanand the template he would follow to snare and kill women around Panaji over the next 15 years. He wanted sex and money, and perhaps most of all, the perverse thrill of murder. As an auto driver he knew he had to stalk his prey in the poorer quarters – women like Gulabi who barely eked out a living and had slim hopes of finding a good match. Mahanand saw such women all around him, at bus shelters, markets and industrial estates, and he started carefully picking out the most vulnerable ones in the 20-35 years age bracket. For instance, his third victim, 19-year-old Vassanti Gaude, was a poor housemaid in Ponda. Mahanand promised to give her Rs 50,000. On September 11, 1995, Vassanti accompanied him to a deserted spot in nearby Shantinagar and was never seen again. "We have not even seen her body," Vassanti's sister Jenny Gaude told TOI.
(Clockwise from top) Convicted in two murder cases and sentenced to life, Naik was granted a 21-day furlough earlier this year. His house in Shiroda, 40km from Panaji, was burnt down by a mob after his arrest. The mother of Vassanti Gaude, one of Naik's alleged victims, with a photo of her daughter
Charm, rob, kill, repeat
After his arrest on April 21, 2009, Mahanand told police his modus operandi. He would assume a suave tone and introduce himself as a businessman to his prey. He even picked an alias that gelled with the woman's name. For example, he became Govind for Gulabi, and Yogesh for Yogita, his last victim in January 2009. Some of the women fell into his trap when he told them they were his father's choice to be his wife. He had only one condition for them – they should keep mum about the match until they had met his sister and aunt, wearing their best ornaments, of course. He invariably offered the women ice cream at their first meeting, enacted a short, whirlwind romance, and then invited them home to meet his folks. Whoever agreed to go with him was robbed and killed. Early on, Mahanand made one change in this template. While he had smashed Gulabi's head with a rock, Darshana onwards he strangled each one of his "brides" with her own dupatta and became notorious as the "dupatta killer".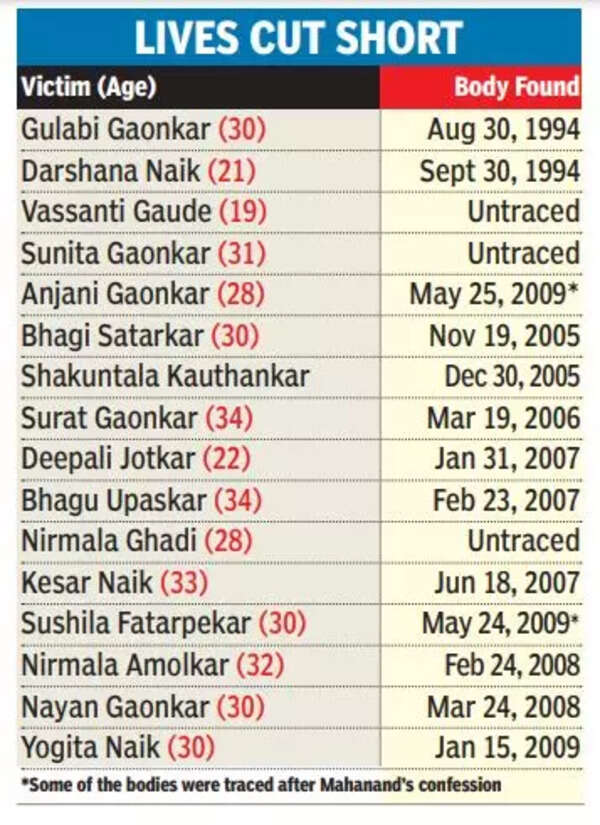 Free run for 15 years
Shiroda, Ponda, Bicholim, Margao, Quepem – a quick look at the case files shows Mahanand's victims lived within a 40km radius around Panaji. Every time he killed a woman in a field, he took her jewellery to a goldsmith and made a distress sale pleading serious illness in the family. His footprints were everywhere, and had police joined the dots they might have caught him much before 2009. But all of Mahanand's victims were so poor, they couldn't hire good lawyers or press police to investigate. While visiting the victims' kin for this report, TOI found that most of the families live in mud houses. There's an eight-year gap between Mahanand's third murder in 1995 and the fourth in 2003. After that, he killed women relentlessly – thrice in 2005, once in 2006, probably five times in 2007 and twice in 2008. His last murder in April 2009 was to be his undoing.
The hunter hunted
Yogita Naik was a 30-year-old woman from Nagzar Curti in Ponda. On January 14, 2009, she was reported missing with ornaments worth Rs 80,000, and her body was found at a cashew plantation a day later. The case would have been forgotten like the others, but in March, Yogita's family approached the new inspector at Ponda police station, Chetan Patil, to investigate the case. Inspector Chetan opened the investigation with Yogita's call record. The last two calls to her had been made from a SIM card belonging to a student of Goa Engineering College who had lost his phone. Then Chetan looked at the call details of the lost SIM and found it was still active and had been used to frequently call a 23-year-old woman. Police interviewed the woman and found out she was a rape survivor herself, and the caller was none other than the rapist, Mahanand. This was a staggering finding – the first suspect in the 15-year-old Gulabi case was the likely link in all 16 murders.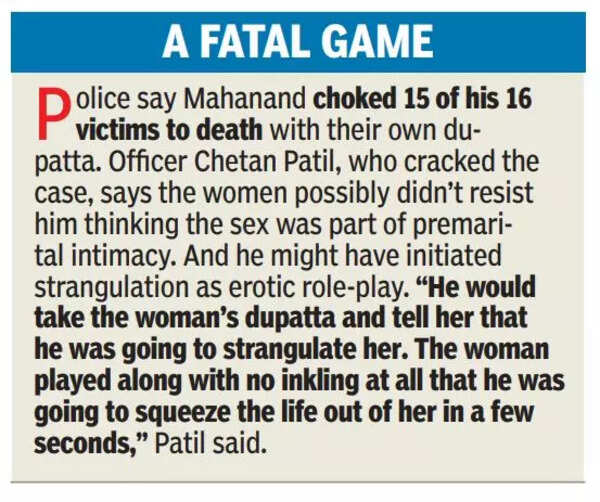 Serial liar and abuser
After Mahanand's arrest in April 2009, more details of the case and his character became known. It came out that he had been raping and emotionally abusing the woman – a friend of his wife – for the past four years. She had lost track of the times he had assaulted her but remembered the first time had been at his house on June 21, 2005. "If I talked to a man, he would threaten me," she told police. When someone from Ponda proposed marriage to her, Mahanand dashed her hopes by announcing she was his lover. He also tried to lead the police astray by claiming Yogita had eloped with her boyfriend after selling her phone to him for Rs 500.
Jailed for life
Mahanand, who is 54 now, has spent the past 14 years in jail. A mob burnt his house in Shiroda soon after the Yogita Naik case was cracked, and his wife, a Central government employee, was sent to a safe destination. Between 2009 and 2010 he was also the subject of a popular play, 'Mahanand: Monis vo Soitan' (Mahanand: Man or Satan), that drew crowds from Goa to the UAE, Bahrain, Qatar and the UK. In the years since, Mahanand has been found guilty of two murders, and hearings in the other cases are still on. When he was sentenced for life on July 20, 2011, the families of his victims had found a sense of closure, but his 21-day furlough from the Central Jail at Colvale in June this year left them dismayed. "Mahanand should never be released from jail," said Darshana's mother Laxmi. "The news of the furlough gave me panic attacks," the rape survivor told TOI. "I am grateful to the police for providing me with an armed guard. I never want to see him again."Watch Who is Mahanand Naik?: Goa's dupatta killer, the groom who strangled 16 brides




If you want to register your marriage in thane visit : https://courtmarriageregistration.co.in/court-marriage-registration-in-thane

Source link